Thoughts on This Morning's Event
(▼)
(▲)
This morning was the big September Apple event. In the lead up, and in the past, this event has often been referred to as the "iPhone event". This year however, while Apple did introduce 2014's iPhone lineup, it was clear from the start that it was not the main focus.
From what I could make out between live stream outages and over the voice of the Mandarin translator, which was mistakenly overlaid on the main feed, Apple rushed straight into iPhones, skipping their usual lead up of numbers and statistics. The first things we saw, not surprisingly, were the two new iPhone models, the 6 and the 6 Plus.
iPhones
I'm excited about the new iPhones. I stand by my own past admonitions that 5.5 inches is far too big, but 4.7 seems like an acceptable leap, especially with the nice new gestures they've added to make reaching the top of the display easier. The improvements to the camera, 240 FPS slo-mo, A8 & M8 chips specs, improved display, etc. are all welcome upgrades, but the biggest news for iPhones is of course the new Apple Pay system. Using the new NFC antennas in the iPhones 6 and 6 Plus, we will be able to add our credit cards into our phones and pay at participating stores by simply holding the phone near the NFC sensor and authenticating via Touch ID. I'm slightly regretting backing Coin now, but oh well.
Unfortunately, none of my wishes from yesterday seem to have been answered. While we can't be fully certain at this point since it isn't mentioned anywhere, leaks suggest that Apple likely still hasn't revved the RAM. The camera has been improved in general, but since they made no mention of improvements in shooting at night I think we can assume it's still about the same.
The memory intervals just confuse me. The iPhone 6 starts out at the same 16GBs of memory for $199 that the last few baseline iPhones have begun with, but the step up model for $299 leaps all the way to 64GB. There is no model of iPhone 6 or iPhone 6 Plus which comes with 32GB of memory. So why keep 16GB around at all? Particularly with 240 FPS slo-mo videos and 43MP panorama shots, 16GB of memory is a ridiculously low level. And while many customers will reduce the impact of these huge files by turning on the "Optimize iPhone Storage" setting, recall that the free iCloud storage plan is still limited to 5GB. It stands to reason that many of the same customers who don't want to pay a premium for an iPhone with more storage will also be opposed to paying for extra iCloud storage, so storing all their photos and videos in the cloud is not an option.
If you go all the way to the bottom of the lineup, you'll find the iPhone 5c hanging around at a single storage capacity of 8 gigabytes. That Apple is keeping such a low level of storage around astounds me. Even more so because people having open space on their devices is in fact in Apple's own interest. Many of my friends here in Tucson take months and months to update their iPhones to the next OS simply because when they try they are informed that their devices do not have enough storage to download the update. If Apple would just give them the extra storage, as the company most certainly has the ability and resources to do, then they could increase the speed of their upgrade numbers. But maybe those numbers are so high already that Apple doesn't really care. Regardless, I'm hoping for a mid-year upgrade that moves 32GB storage levels back into the lineup, and gets rid of 16 completely. Maybe they're just trying to dump inventory.
All in all, I'm looking forward to the new iPhone 6. I think it's a great upgrade, and I'll be in line at the Apple Store on the 19th to pick one up for myself.
Apple Watch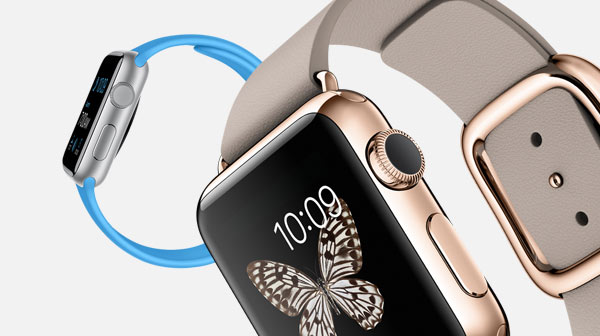 What turned out to be the main event, the rumored iWatch is finally confirmed and out in the open. Surprisingly though, they decided to name it "Apple Watch" instead of "iWatch", a choice which I disagree with.
The Apple Watch is quite an impressive device, boasting a full color touch display, a "digital crown" (the spinner on the side of classic watches which you would use to wind them in the past and is now used as a clever way to navigate), inductive charging, and much more. I won't go into much detail on the device here, as there are better sources to find that, but I'll just give my initial impressions.
I think the device looks great, and has massive potential, but I also have some concerns. While it has Apple's usual beautiful design expertise, I find it still looks somewhat bulky for my tastes. That said, it's not massive like some "smartwatches" out there, and I've also only seen it in pictures and videos, so maybe it's size won't bother me when I try it in person.
Beyond the size of the device, I think my reserved enthusiasm stems mostly from a nagging fear that the device's battery life will be less than optimal. As everyone who watches keynotes regularly knows, Apple loves bragging about the battery lives of their devices. During the Apple Watch announcement however, the only time anything near battery was mentioned was when they discussed the charger. Toward the end we got a small nugget when Tim Cook implied that we would need to charge the device nightly. If that's true then I'm honestly okay with that, but only if the device truly lasts the entire day. If the watch dies at 8:00 each night I will be vastly disappointed with it.
My trepidation is also fueled by the fact that the Apple Watch really seems to have made no compromises. Leading up the event, conjecture was made that there would be no screen, that it would controlled by spinning the outside of a circular watch and the screen would not be touch sensitive, or that it wouldn't even be a watch at all. The only way we thought Apple could do it all was to make the device huge. And yet, here we have the Apple Watch and it has a full color touch sensitive display, all sorts of sensors, an entire computer architecture on a single chip, full Siri integration, and... Good battery life? It seems impossible, and since Apple didn't mention anything about that final, yet extremely important statistic, I'm worried they might not have fully pulled it off.
But then again, this is Apple.
---